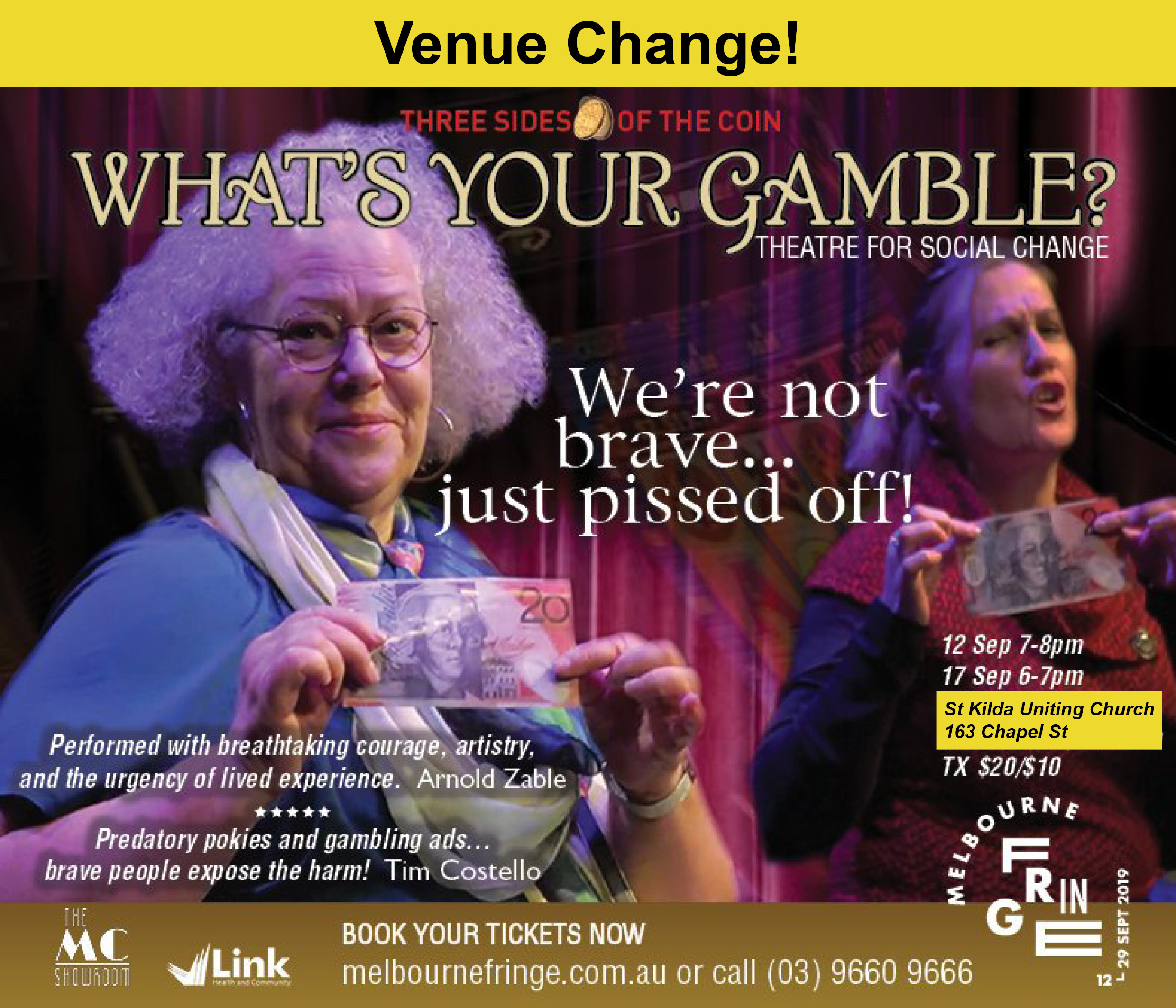 Who we are
Three Sides of the Coin supports people who have suffered due to gambling. In our creative workshops, participants share their stories which are developed into performances. Participants may be gamblers themselves or loved ones who have suffered due to the gambling of someone close to them. We then share these performances of the lived experience of gambling to raise awareness of gambling harm.
LISTEN: 15 min interview with our artistic director, Catherine Simmonds and one of our participants, Paul Fung on LIFE MATTERS (ABC Radio National) Click here to listen.
You can participate in two ways
Creative workshops for people affected by gambling
People who have been affected by gambling come together in supportive, fun, and exciting workshops. Through telling their stories, people start to gain self-confidence and a powerful feeling of trust and connection between participants grows. Under the sensitive guidance of artistic director Catherine Simmonds, performance scenes are created through weaving people's personal stories into a creative whole, that will touch all who see them.
Performance scenes
These scenes shed a unique light on gambling addiction. By attending a performance, you will experience the inner voices, the pain, the shame, and the harm of it all. The stories are presented with brutal honesty and courage, not by actors, but by the very people whose experiences you will share.
Our performances:
Can be adapted for the specific needs of your work places and community groups
Stimulate conversations about the impact of gambling
Expose the shame and stigma of gambling addiction
Challenge audiences to view gambling as a public health issue
Our story so far
Three Sides of the Coin project
See the magic of the creative process and performances in this 20 minute documentary:

Read about our work with the Vietnamese community.
Two Sides of the Coin theatrical production
A compelling and heart-wrenching full stage production continued to touch audiences' hearts. Here are some links to documentaries about the show:
Compelling artistic moments (5 minutes)
If you would like to purchase a hard copy of this book "From RUIN to RECOVERY" please contact Judy Avisar on 1300 552 509 or email javisar@linkhc.org.au
"From RUIN to RECOVERY - Gamblers share their stories"
It all began with Melbourne writer Arnold Zable and a series of writing workshops for people struggling with gambling addiction. The end result was a remarkable anthology of first person accounts about the effect of gambling on people's lives. As Zable put it, 'These writers know gambling from the inside. They had the courage to enter into the world of their addiction…and have dared to bear witness to their painful descents into obsession.'
RUIN to RECOVERY dramatization
These stories were then dramatized into a performance for the Melbourne Writers Festival and Parliament House. The short documentary captures the intensity, fun, fears, insights of seven people recovering from gambling harm – a huge journey of self-discovery and immense courage as they expose their stories behind gambling addiction.
RUIN to RECOVERY Radio Play
This 10 minute audio/radio RUIN to RECOVERY play takes listeners on an emotional roller-coaster. It is a call for understanding that gambling addiction can afflict anyone.
What people have said
"The people at Three Sides of the Coin Project have shown more courage and bravery than I've ever seen. Their commitment to tell their painful story to help others overcome their own challenges shows enormous compassion and determination. And the manner in which they tell the story has made me laugh and cry concurrently."

– Serge Sardo, former CEO of Vic Responsible Gambling Foundation

"We learn much more than just how to 'perform our lives'; we learn about creativity, the power of of listening to ourselves and others; hearing voices other than the dark shaming ones we have lived with for so many years. We offer the unique support of the lived experience to each other. We, see how our stories are woven together to make a whole that helps audiences better understand gambling addiction and recovery."


– Participant

"To witness these scenes is to witness the truth – it bypasses your brain and touches your heart"

– Member of the audience

Want to join our creative workshops?
If you are someone affected by gambling we are interested to hear your story.
Share and understand your experiences in a friendly, supportive space
Discover new ways of being supported
Start to deal with shame and stigma
Interested in a performance for
Your event?
Professional development at your organisation?
If you would like to know more:
Join us to experience a creative way of understanding gambling harm.
Three Sides of the Coin is a project run by Link Health and Community, funded by Victorian Responsible Gambling Foundation.